Inspire Athletics was founded in 2016 on the Gold Coast to provide a safe,
supportive and positive environment for athletes to participate in the amazing
sport of cheerleading. 
We are a unique program as we challenge the athletes to be the best they can
be. Inspire Athletics is a culture in cheerleading like no other. We are genuinely
supportive of one another, treat each other with respect and do not tolerate bad
behaviour. Our gym is a place where athletes feel at home, team-mates become
best friends, and our members become our family.
In our program we have witnessed children and young adults develop confidence,
resilience, determination, leadership and perseverance. We view failure as a
learning experience, and only ask that you try and give 100%.
We are a highly competitive gym with excellent results, however do not focus
on the win but rather the journey because when the years pass you may lose the
medals, outgrow the jackets but you will always have your memories.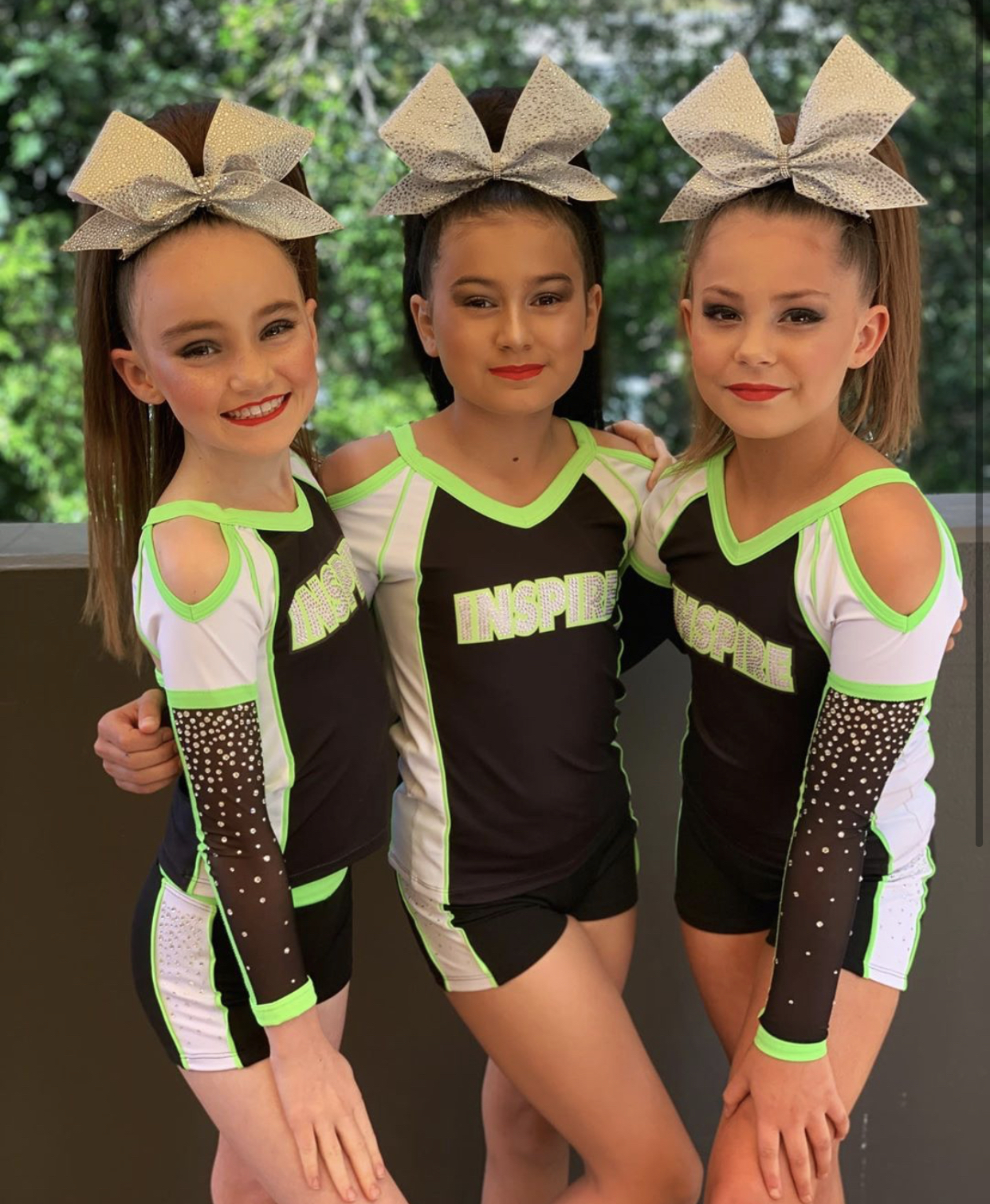 CHEERSPORT
1.5 Hours per week $200 per term
Perfect entry level for beginners, and also a low cost and low commitment program for athletes to progress their skills throughout grades. Ages 4-18 years, compete at 3 competitions per year.
SEMI-ELITE CHEERLEADING
2 Hours per week $28.75 per week
Fall in love with cheerleading in this class which is aimed at beginners. Teams will compete at 5 competitions per year and athletes get the full benefit of the experience of cheerleading with reduced costs and training schedules.
ELITE CHEERLEADING
4-6 hours per week from $57.50 per week
Experience the excitement of competitive cheerleading at Inspire Athletics. Dedication, commitment and a positive attitude are required to train and compete at this level. Compete in front of thousands of spectators locally, interstate and potentially internationally.
Can I try a class to see what it's like?
Yes! Anyone is welcome to come and try a class for free before deciding whether cheerleading is the right sport for you. Please contact us to book in for your free trial class.
Do I need experience?
No experience is necessary, we will teach you everything you need to know for cheerleading.
What is the difference between recreational, semi-elite and elite?
At Inspire Athletics we have classes to suit all commitment levels. We love all of our teams and make sure they each feel special! Our recreational Cheestarz classes train one hour per week and learn the basics of cheerleading. Our semi-elite teams train once per week and compete in 3 local competitions and perform at community events. Our elite teams train twice per week and compete in 5-6 competitions.
How do I start Cheerleading?
First of all you will need to contact us and we will arrange a free trial class so that we can see which class you are most suitable for, and so you can see if it is a sport that you enjoy. From there we can assist you through the enrolment process
How do I pay for Classes?
You can pay upfront for the term or weekly, fortnightly or monthly on Ezidebit.
Do I have to do all competitions?
Yes, you must compete at all competitions unless arrangements have been made with staff.
Do I still pay for missed lessons?
Yes, all missed lessons (excluding Cheerstarz) must be paid for.
How do I do my hair and make-up for competitions?
We have video tutorials on our Inspire Athletics Members Facebook page.
Do I need to attend classes if I am sick or injured?
Yes, unless your illness is highly contagious. All sick / injured students must still come to class to watch so that they don't miss out on any changes to their routine.
What happens if my friend doesn't make the same team as me?
Our teams are chosen based on several different factors including tumbling skills, basing/flying skills, coach ability etc. Unfortunately we don't select teams based on car pools or friendships. Our teams are successful because of our selection process. Every athlete is a valued member in their chosen team.
What do I wear to my first lesson?
Please arrive wearing comfortable fitness/sports clothing such as tights and a t shirt and joggers. When you register with us you will receive your training attire.
Can I just do tumbling?
Absolutely! Our tumbling classes are open to everyone and are casual $15 per class.
Can parents watch training?
Yes we have a parent viewing area to watch training. This is a monitored space and is good vibes only!


Address
2/221 Brisbane Rd Biggera Waters, Gold Coast, QLD
Inspire Athletics Gold Coast
2/221 Brisbane Rd Biggera Waters, Gold Coast, QLD

Email Us
Please fill in the form below and one of our amazing staff will get back to you.
© Inspire Athletics Gold Coast 2023